Mr. Waterman has been enjoying substantial successes throughout Hampton Roads and elsewhere for over two decades. Almost 20 years ago, Mr. Waterman obtained a $750,000.00 jury verdict in Lynchburg for a tractor-trailer truck victim. In 1998, he notched a $1,250,000.00 medical malpractice verdict in Hampton and a $1,000,000.00 dollar settlement of a Newport News product liability case with a national vehicle manufacturer. His 2004 verdict for $850,000.00 in the City of Williamsburg and James City County was the then highest there. His 2005 jury award of $1,680,000.00 for a fall patient in Newport News received prestigious front page coverage in 
Virginia Lawyers Weekly ("VLW") and was one of the largest verdicts in Virginia. In 2006, that jury verdict was upheld by the Virginia Supreme Court in a landmark medical malpractice opinion. Since 2007, he has settled on a confidential basis two class actions certified in the United States District Court for Newport News and Norfolk, one on behalf of 115 plaintiffs. In 2008, Mr. Waterman lobbied the Virginia General Assembly in opposition to House Bill 382, which inequitably stood to deny patients access to the true facts of their health care by providers who commit malpractice; and obtained three record settlements collectively totalling over $2,500,000.00 for Peninsula patient fall victims. In 2009, he settled a multi-party suit in state court. His 2010 jury verdict of $6,100,000.00 for a brain injury victim in Gloucester County was by far the greatest there, one of the highest across Virginia, and subject of VLW  front page coverage;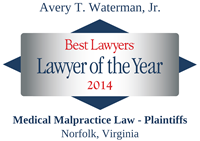 and the $987,500.00 settlement co-counsel and he obtained for a brachial plexus injury caused during shoulder-dystocia delivery was the largest known one of its kind in Virginia. In 2011 Mr. Waterman settled a medical malpractice case for $1,000,000.00.
On April 20, 2012, the Virginia Supreme Court in Richmondopined in his Gloucester brain injury case a high school Assistant Principal owed a duty of care to a student,  there was no statutory immunity for personal injury liability, gross negligence is an exception to common law sovereign immunity, and a reporting student's de bene esse deposition was admissible. On December 7, 2012, a Newport News jury awarded his 88 year-old client $3,500,000.00  in another patient fall case against Riverside Hospital, Inc., wherein he introduced cutting-edge 3.0 Tesla MRI, Diffusion Tensor Imaging ("DTI"), and NeuroQuant Analysis.
Mr. Waterman has settled a personal injury case for $1,400,000.00 in 2013, and has been named "Lawyer of the Year" by Best Lawyers in America (2014) for his handling of "Plaintiff – Medical Malpractice" in Southeast, Virginia. He is moving numerous patient fall, other malpractice and vehicle accident cases across Hampton Roads toward trial this year.
Large complex litigation is his forte.  His cases feature "first impression" and other sophisticated issues. Mr. Waterman has prevailed in a dozen appeals before state and federal courts.  He handles cases throughout Virginia and with local counsel in other states, such as Louisiana, North Carolina, Pennsylvania, Rhode Island, Texas, and the District of Columbia.
Mr. Waterman brings to bear decades of personal injury experience, providing clients valuable perspective, skill and credibility. He also has the staying power to withstand common insurance defense delay tactics and to investigate, negotiate, litigate, mediate, try and/or appeal as may be warranted in his discretion.
"Establish justice in the courts." Amos 5:15.  "Sunlight is . . . the best of disinfectants." U.S. Supreme Court Justice Louis Brandeis.  "Never give in," Sir Winston Churchill, "for without victory, there is no survival." "The arc of the moral compass is long, but it bends toward justice." Dr. Martin Luther King.
 MR. WATERMAN'S CASE RESULTS AND CLIENT TESTIMONIALS DEPEND UPON A VARIETY OF FACTORS UNIQUE TO EACH CASE. THEY DO NOT GUARANTEE OR PREDICT A SIMILAR RESULT IN ANY FUTURE CASE BY HIM.
Thank you very much for visiting. We are ready to serve your legal needs.
Contacting Mr. Waterman alone does not retain him automatically; an attorney-client relationship with confidentiality does not exist until he expressly accepts your case. Thanks again.